(Continued from the February issue of Jersey Jazz Magazine)
Howard Johnson
Considered the preeminent tuba player in modern jazz, Howard Johnson died on January 11, 2021, at the age of 79, in New York City. In 2018, classical composer Joseph Daley described Johnson to Jazz Times as "the Muhammad Ali of the tuba. Howard pretty much singlehandedly, through self-determination, pushed forward the instrument, demanding that he be allowed to express himself in many, many different facets . . ."
Born on August 7, 1941, in Montgomery, AL, Johnson, who grew up in Massillon, Ohio, a Canton suburb, taught himself to play the baritone saxophone at age 13, moving onto tuba a year later. After graduating from high school and spending four years in the Navy, he moved to New York to pursue a jazz career. A year later, pianist Jaki Byard recommended him to bassist Charles Mingus who hired him as a tuba player. At the same time, he played baritone sax in a band led by alto saxophonist Hank Crawford. In 1968, Johnson formed a tuba ensemble originally named Substructure and renamed Gravity in 1972.
In the '70s, Johnson continued to play with Mingus as well as big bands led by Gil Evans and pianist Carla Bley. He was also a member of bassist Charlie Haden's Liberation Music Orchestra, became a charter member of the Saturday Night Live band, and toured with Buddy Rich and Rahsaan Roland Kirk. He left SNL in 1980, freelanced, and revived Gravity, which made its first album, Gravity!!!, on the Verve label, in 1995. Jim Santella, reviewing it for AllMusic, pointed out that "the tuba has its place in music: the rhythm, the pulse, the bottom harmony. But, in the hands of 55-year-old Johnson and his five tuba-mates, plus rhythm section, the instrument becomes a melody maker."
The New York Times' Robert Palmer, reviewing a Gravity performance in 1977, described its "fresh sound" and "sunny good humor and affection for the jazz-and-blues tradition." Johnson, he wrote, "combines New Orleans phrasing, avant-garde shrieks, blues riffing, and multi-noted bebop flurries in a consistently exciting and wildly original style."
Johnson continued recording and performing until illness forced him to stop in 2018. In 2017, Gravity – with some long-standing members still in the band – recorded an album, Testimony, on the Tuscarora Records label. Reviewing it for AllAboutJazz, Roger Farbey wrote that,"The opening title track is worth the entrance fee alone just for its astounding, albeit brief, collective ascending glissando at the very end of the number. But, it's also a strong piece with a robust and inventive tuba solo from Johnson.":
Johnson is survived by his longtime partner, Nancy Olewine.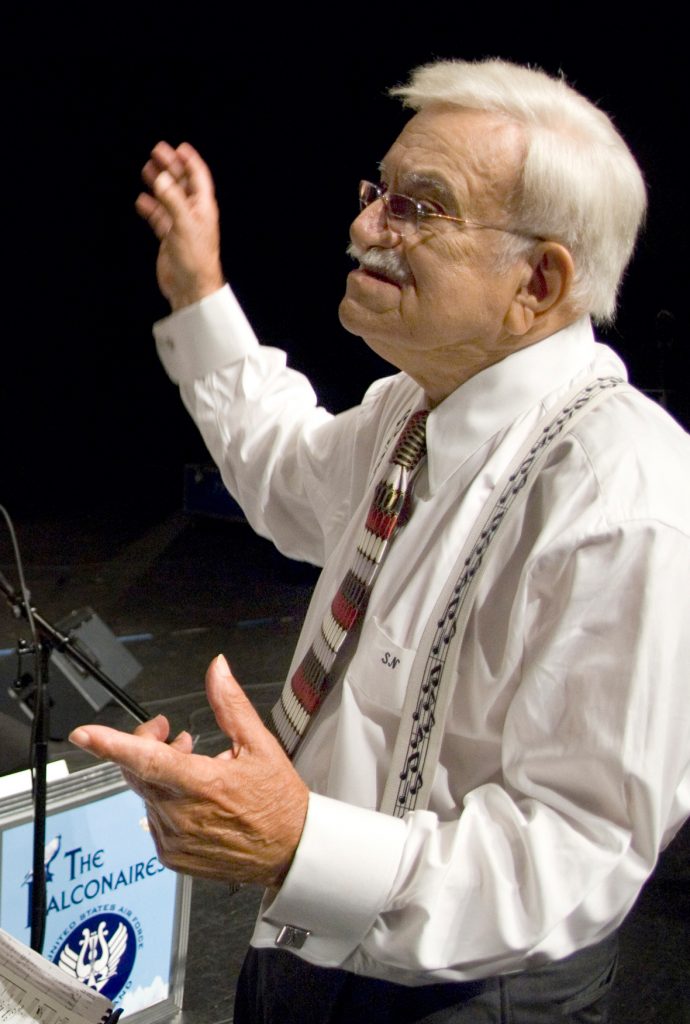 Sammy Nestico
"Some people are born to rule, others to serve. Sammy Nestico, it seems, was born to swing." That's how AllAboutJazz's Jack Bowers described Nestico in December 2005 while reviewing his Basie-cally Sammy album, "a warmhearted homage to the Count with Germany's superlative SWR Big Band.
Nestico, who died on January 17, 2021, at the age of 96, in Carlsbad, CA, was best known for his 17 years as an arranger for the Count Basie Orchestra. He was born on February 6, 1924, in Pittsburgh and began playing trombone in his high school orchestra at age 13. At 17, he joined the ABC Radio Orchestra in Pittsburgh. After serving in the Army and graduating with a music degree from Duquesne University, Nestico played in big bands led by Charlie Barnet, Tommy Dorsey, Woody Herman, and Gene Krupa. In the 1950s, he returned to the service as an arranger for the U.S. Air Force's Airmen of Note and, in the '60s, he led and arranged for the U.S. Marine Band playing at the White House for Presidents Kennedy and Johnson.
In 1967, a saxophone-playing cousin introduced him to Basie. That was an association that endured until Basie's death in 1984. The first album incorporating Nestico's arrangements was Basie Straight Ahead (Dot: 1968). Of the 10 albums Nestico arranged for Basie, four were nominated for Grammys, and two – Warm Breeze (Pablo Today: 1981) and 88 Basie Street (Pablo: 1983) – won for Best Instrumental Performance Big Band.
Nestico formed his own band in 1980 and released his first album as a leader, Dark Orchid, in 1981. In addition to his work with the SWR Big Band, he collaborated on albums by Quincy Jones and Buddy Rich. He was also a prolific arranger of music for jazz students. "You go anywhere in the world, and Sammy's music is a dominant factor in all big band playing," Bill Yeager, Director of Jazz Studies at San Diego State University, told the San Diego Tribune two days after Nestico's death.
Survivors include his wife, Shirley; three sons, Gary, Terry, and Mark Nestico, from an earlier marriage; and several grandchildren and great-grandchildren.
Claude Bolling
French jazz pianist Claude Bolling exploded on the U.S. music scene in 1975 with the release of his album, Suite for Flute and Jazz Piano, recorded with flutist Jean-Pierre Rampal. The album was nominated for a Grammy Award for Best Chamber Music Performance and became one of the best-selling classical records of all time, remaining on the Billboard charts for a decade.
Writing about the fusion of classical music and jazz in March 1982, The New York Times' Allan Kozinn called Bolling the "leader of the pack in the crossover world. Rather than tamper with the standards, Mr. Bolling composes new works . . . Mr. Bolling's first success on this side of the Atlantic was the 'Suite for Flute and Jazz Piano'. Released by CBS Masterworks, the disk nevertheless made its way to rock and jazz radio stations."
Bolling, who died December 29, 2020, at the age of 90, in the Paris suburb of Garches, also received Grammy nominations for his 1979 album, Suite for Violin and Jazz Piano with violinist Pinchas Zukerman and his 1987 recording, Suite No. 2 for Flute and Jazz Piano with Rampal.
Born on April 10, 1930, in Cannes, Bolling grew up in Paris and was an early fan of Duke Ellington and Fats Waller. He listened to jazz on the radio until it was prohibited by the Nazis in World War II. In addition to his recordings, he wrote soundtracks for several French movies such as Borsalino starring Jean-Paul Belmondo and Alain Delon and Le Magnifique with Belmondo and Jacqueline Bisset.
Early in his career, Bolling recorded with visiting American jazz artists such as trumpeters Buck Clayton and Rex Stewart and vibraphonist Lionel Hampton. He also played with Ellington soloists, trumpeter Cat Anderson and saxophonist Paul Gonsalves. His piano style, according to The Guardian's John Fordham, writing two days after Bolling's death, was "audibly influenced by Duke Ellington, a lifelong hero, as well as by Earl Hines, Teddy Wilson, and Art Tatum." His devotion to Ellington, according to The Washington Post's Emily Langer, caused French writer, Boris Vian to christen him, "Bollington."
Classical flutist Pamela Sklar, who toured with Bolling for 11 seasons, told The New York Times' Neil Genzlinger that, "Claude's music was so vastly appealing because it distilled attributes of sophisticated classical and esoteric jazz styles into accessible palettes of happiness, excitement, innocence, pathos, playfulness, and sincerity."
When criticized by members of the classical music community for not being purist enough, Bolling once described classical music adherents as being "more royalist than the king when it comes to claiming a superiority over jazz."
He is survived by two sons, David and Alexandre.
Jeff Clayton
The Clayton-Hamilton Jazz Orchestra was founded in 1986 by multi-reedist Jeff Clayton, his brother, bassist John Clayton, and drummer Jeff Hamilton. For 35 years, according to JazzTimes' Michael J. West, it has been "among the leading lights of West Coast jazz." Jeff Clayton, died on December 16, 2020, in Los Angeles at the age of 65 after a two-year battle with kidney cancer.
Before the C-HJO was formed, Clayton played with Stevie Wonder's touring band and the Count Basie Orchestra. He and John started a quartet in 1977, which eventually expanded to a quintet. Born on February 16, 1955, in Venice, CA, Jeff Clayton began playing clarinet at age nine, adding alto saxophone and flute five years later. He also played oboe, tenor and baritone sax, alto flute and piccolo, English horn, and bass clarinet.
In October 1999, Clayton, taking a break from the orchestra, led a quartet at the Los Angeles club, Steamers. Reviewing the performance, the Los Angeles Times' Bill Kohlhaase pointed out that, "Saxophonist Jeff Clayton's robust solos on behalf of the Clayton-Hamilton Jazz Orchestra always raise the question: What would the alto man sound like left to his own devices in a small group setting?" The answer: "He declared his allegiance to alto saxophonist Cannonball Adderley from the bandstand, then applied Adderley's relaxed, golden ways to his play. Smoothly crafted runs ended with blues touches made to vibrate . . . During up-tempo numbers, his play variously boasted the compactness of Charlie Parker, the economy of tenor man Lester Young or the sophisticated confidence of Johnny Hodges."
In addition to performing and arranging, Clayton taught at several universities – UCLA, the University of Southern California, and California State University in both Long Beach and Los Angeles. One of his former students, saxophonist Anita Thomas, described him on Facebook as "the greatest teacher I ever had. He made me laugh, and he made me cry, and he taught me so much more than music and saxophone, even though he seemed to live and breathe it. He was kind and generous and took care of his students in a way I have never experienced before."
In a prepared statement, his brother John said: "I am sad but buoyed by Jeff's spirit, by recalling six decades of growth together, by the music we shared, and the knowledge that he wants us to move on, embracing and celebrating life."