For more than seven decades, Bucky Pizzarelli was one of the world's greatest guitarists. But, in addition to his musical talents, Pizzarelli was an incredible artist – he took up painting as a hobby in the early '60s – painting scenes from his backyard and memories.
Pizzarelli passed away at the age of 94 in April (Jersey Jazz, May/June 2020), but the Pizzarelli family, recognizing the New Jersey Jazz Society's service to the jazz community, has generously donated one of Bucky's paintings to NJJS to be sold, with all proceeds benefiting the NJJS Scholarship Fund.
The artwork is a 20 x 24-inch oil-on-canvas painting of the Pizzarelli Saddle River, NJ, property on the bank of the Saddle River. It features striking autumn colors against a pallet of blue sky, green and brown trees with the Pizzarelli home in the background. It comes with its original frame (27.25 x 31.25) and is prominently signed: PIZZARELLI. Included with the painting is a framed photograph of Bucky and his wife, Ruth (who passed away a week after Bucky) enjoying a Frank Sinatra video with the painting displayed in their home.
The sale of the painting will be facilitated through the Charity Auctions Today website. To access the online auction, log onto www.charityauctionstoday.com and use search term(s) 15173 or New Jersey Jazz Society or use the camera on your smartphone to scan this QR code, and you'll be taken directly to the auction site.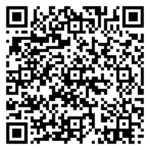 This auction will begin Sunday, November 1, and end at 10 p.m. EDT on Tuesday, December 15. NJJS will arrange for delivery or pickup within 60 miles of Madison, NJ. If shipping is required, all additional expenses will be the responsibility of the winner.

This is a once in a lifetime opportunity to own a Pizzarelli original and to help NJJS continue its mission to promote and preserve America's great art form – jazz.
Bucky Pizzarelli was a beloved and devoted member of the New Jersey Jazz Society. We'd like to acknowledge the generosity of the Pizzarelli family and thank them for this extraordinary gift.