We have lost three more members of the jazz community. One, bassist Henry Grimes died from complications of the coronavirus. The others are: bassist Jymie Merritt and pianist Onaje Allan Gumbs.
Henry Grimes, 84, November 3, 1935, Philadelphia — April 15, 2020, Harlem. Grimes began to draw notice in the mid-1950s, playing on albums by alto saxophonist Lee Konitz, baritone saxophonist Gerry Mulligan, and tenor saxophonist Sonny Rollins. He performed with Rollins at the 1958 Newport Jazz Festival and is seen in the classic film, Jazz on a Summer's Day, playing in an apparently spur-of-the-moment trio with pianist Thelonius Monk and drummer Roy Haynes.
In the 1960s, Grimes gravitated toward more avant-garde music as part of the Steve Lacy-Roswell Rudd Quartet. He appeared on their album, School Days, performed in 1963 but not released on record until 1975 on the Emanem label. Grimes' first album as a leader was The Call, recorded in 1963 with clarinetist Perry Robinson and drummer Tom Price and reissued on CD in 1993 by ESP-Disk. Grimes also was a member of pianist Cecil Taylor's band before virtually disappearing from the music scene until he was rediscovered by a social worker. Writing on WBGO's website on April 18, 2020, Nate Chinen reported that, "Grimes owned no instrument, so Margaret Davis, an advocate for jazz musicians in New York City, began a campaign to get him one. This led to [bassist] William Parker donating one of his own, a bass he'd stained olive green and finished with coats of polyurethane, dubbing it Olive Oil." Grimes, according to Chinen, "would go on to play hundreds of gigs with that instrument in New York and around the world."
Grimes is survived by Margaret Davis, who became his wife. She said the Jazz Foundation of America was assisting with his care before his death.
…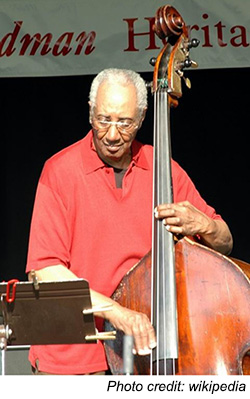 Jymie Merritt, 93, May 3, 1926, Philadelphia — April 10, 2020, Philadelphia. Merritt is best known for his affiliation with Art Blakey and the Jazz Messengers. He was part of that band from 1959 into the early 1960s and played on the celebrated 1959 Blue Note album, Moanin', along with trumpeter Lee Morgan, saxophonist Benny Golson, and pianist Bobby Timmons. Before joining Blakey, he played with Golson in addition to John Coltrane and drummer Philly Joe Jones. After leaving Blakey, he continued to perform with Morgan as well as trumpeter Chet Baker, and drummer Max Roach.
In the 1970s, Merritt revived a Philadelphia-based group known as the Forerunners that he originally founded in 1962. It featured several Philadelphia musicians such as tenor saxophonist Odeon Pope and pianist Colmore Duncan. Explaining the group's mission, Merritt once told the Philadelphia Daily News that, "People like Lester Young, Count Basie, Charlie Parker, and Dizzy Gillespie left an enormous trail of ideas that we were following."
In an interview after Merritt's death, Pope described Merritt to The Philadelphia Inquirer's Dan DeLuca as, "an extraordinary player . . . He had his own sound. He had his own concept. He was just so fluent in what he was doing. To me, playing his music was like going to the highest university in the whole world."
In 2013, Merritt received the Living Legend honor at the Philadelphia Clef Club Jazz Awards. In 2016, another Philadelphia bassist, Christian McBride, featured Merritt's music on his NPR radio show, Jazz Night in America. Calling Merritt "a giant," McBride added, "Jymie Merritt is not only one of the great bassists of his era, but also one of the great composers."
Cause of death was liver cancer. Survivors include: his longtime partner, Ave Merritt; his sons, Mike, Marlon, and Marvon; and daughters, Mharlyn and Jamie Reese.
. . .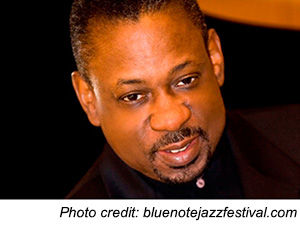 Onaje Allan Gumbs, 70, September 3, 1949, Harlem — April 6, 2020, Yonkers, NY. A protege of Billy Taylor and Herbie Hancock, Gumbs played with alto saxophonist Art Pepper, trumpeter Woody Shaw, and drummer Norman Connors, among others. In a 1977 review of the Art Pepper Quartet, John S. Wilson of The New York Times admired Gumbs' "light-fingered, driving attack" and "balance between airiness and intensity."
As a youth, Gumbs was fascinated by the music of Henry Mancini. He once explained that, "I became kind of an expert on his musical style, and his way with horns, and how he used it dramatically in film."
In 1977, Gumbs performed on Connors' popular Buddhah Records album, You Are My Starship. Connors introduced him to vocalist Phyllis Hyman, and he became her Musical Director, after he had arranged her vocal rendition of Connors' "Betcha by Golly, Wow" on that album. In 1985, he arranged "The Lady in My Life" on guitarist Stanley Jordan's Blue Note album, Magic Touch. That song, according to Giovanni Russonello of The New York Times, "helped send the LP to the top of Billboard's jazz chart."
Cause of death was undetermined. He is survived by his wife, Sandra Wright Gumbs, and his sister-in-law, Linda Bannerman-Martin.