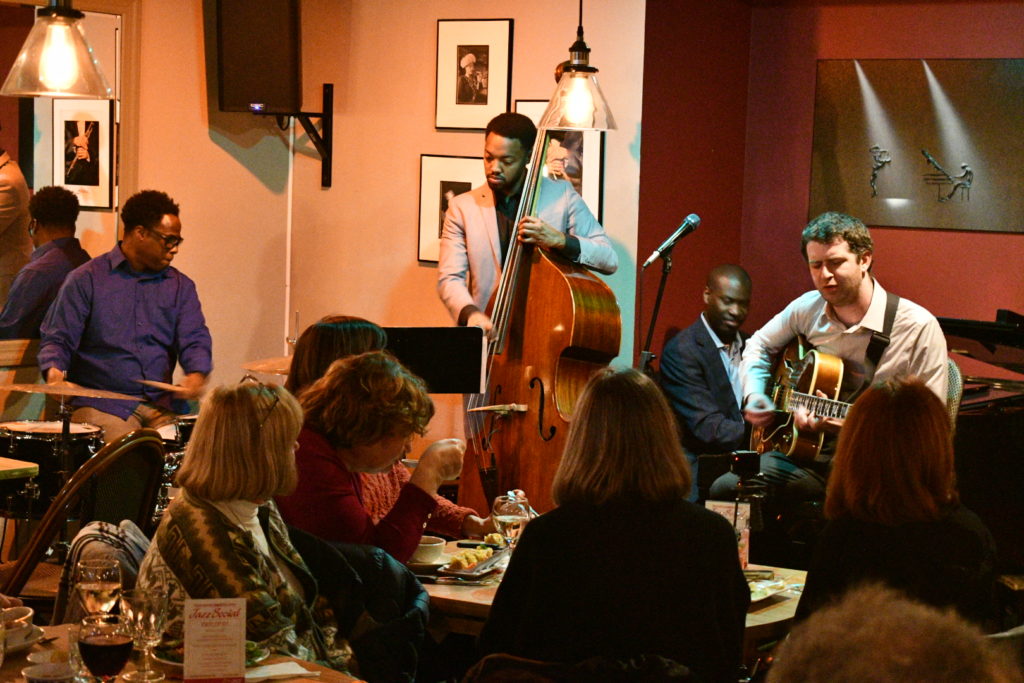 Pianist James Austin, Jr. has received quite a bit of acclaim for his 2018 album, Songs in the Key of Wonder, honoring the music of Stevie Wonder. But, at the NJJS Jazz Social on Sunday, January 19, at Shanghai Jazz in Madison, Austin demonstrated a great deal of versatility. Yes, he played several Wonder tunes — "My Cherie Amour", "Tuesday Heartbreak", and "Isn't She Lovely". But his repertoire also included Cole Porter's "What Is This Thing Called Love?", Dizzy Gillespie's "Con Alma", and Juan Tizol's "Caravan", among others.

The joint was jumping. As one attendee said, "This was a killer concert!" Austin was joined by guitarist Charlie Sigler, bassist Dishan Harper, and drummer Jeremy Warren. The quartet, although never having been together as a foursome, sounded like a seasoned unit. Of course, Austin and Warren are used to being on the same bandstand to accompany the young vocalist Alexis Morrast. Warren is a frequent band mate of tenor saxophonist/flutist Don Braden, having been part of his big band concert last December at the Bickford Theatre in Morristown and also appearing on Braden's album, Earth Wind and Wonder. Sigler was recently at the Tavern on George with bassist Vincent Dupont and drummer Alvester Garnett as part of the New Brunswick Jazz Project's series; and Harper often plays with his uncle, drummer Winard Harper.

Reviewing Austin's Wonder album, JazzTimes' Geannine Reid wrote of his "delicate touch", which is "emotive and heartfelt". Perhaps his next album will explore American Songbook standards or tunes from the hard bop era. Either one would be very welcome.

The next NJJS Social, on February 16, will feature young alto saxophonist Alex Laurenzi with a rhythm section of musicians from the Juilliard Jazz program. See the preview on the njjs.org home page.