Generous New Jersey Jazz Society patrons have donated their gently used and often rare collections of used jazz CDs and LPs with 100% of the profits from their resale going to further our mission. Unfortunately, our storage space is now filled to the brim and we cannot accept any more donated CDs until later in the Fall, after our warm-weather sales events take place.
Our Individual CD Inventory lists used CDs for sale at $4 each and 3 for $10. Media Mail shipping and handling costs are additional – approximately $3 or less – and calculated on the number of CDs purchased. In addtion, we have a selection of CD Box Sets available.
Our used LP selection can be accessed at LP Inventory. Due to prohibitively high shipping costs of vinyl, other arrangements must be made for merchandise pickup/delivery.
Mosaic CD Box Sets Available!
We recently received a collection of used Mosaic Limited Edition CD Box Sets. Most are in near-mint to very good condition. Mosaic Sets are prized by collectors for their superior audio quality and include beautiful booklets with essays on the music and musicians written by leading jazz scholars and musicians, rare high-quality photographs, and extensive discographical information. Details on the artists and tracks included in each box can be found on allmusic.com or discogs.com.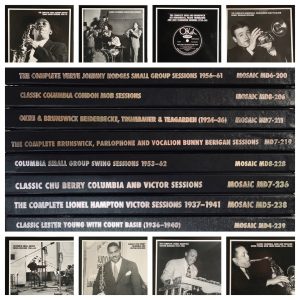 This is a great opportunity to add to your collections while helping NJJS continue to promote and present jazz. Contact at us at merchandise@njjs.org for more information.
All merchandise prices exclude 6.625% New Jersey sales tax and shipping.
Please contact us at merchandise@njjs.org to verify that your selections are still available and/or to make arrangements for merchandise pickup/delivery.
After verifying your selections, you can make a payment by using the Buy Now button below or by sending a check to:
New Jersey Jazz Society
382 Springfield Avenue Suite 217
Summit, NJ 07901